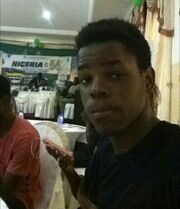 Jeffery Munachi Daniels Umezulike (Born July 29th, 1996) is a comic artist, poet and writer. He has hand drawn a variety of comics with the genre ranging from action adventure to sports. Munachi is skilled in manga style but can also draw with other styles. Munachi is the mind and hand behind the block buster series, RED. Munachi grew up and schooled in Lagos, Nigeria and currently studies Petroleum engineering at All Nations University College, Ghana.

Munachi is a registered on ComicFury as RED2015 and is also The Deviantart community as RedtheComic.
ComicFury Bio Edit
My name is Munachi Umezulike. All my life, I've always wanted to create a world that could really capture people's mind and hearts. I'm pretty much doing that with RED right now.
Vampires Edit
Although vampire are beings from folklore who subsists by feeding on the life essence of the living. Munachi attempts to depict Vampires in RED as beings with Dark Energy (Energy of Death) instead as blood sucking creatures.